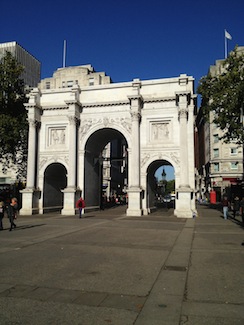 Opened in September 2013, Halcyon is the only not-for-profit, co-educational, International Baccalaureate school in central London. It is located a couple of minutes walk from Marble Arch on 33 Seymour Place. I attended a recent open morning at the school to find out more about this exciting new school. Thanks to the London tube, I came half an hour late and missed the initial presentation, but I walked straight into a debate of how technology was used at the school. The facilities of the school are state of the art and it is very much a modern school that embraces technology throughout the curriculum to support engagement and learning. In fact, each student has an iPad that is used integrally as part of the coursework.
We could see the use of technology in action while observing lessons going on that morning. In Design Technology, students were brainstorming products they could create to fundraise for charity and checked Pinterest boards for construction manuals. On the board, the teacher had highlighted her twitter username so students would be able to tweet their questions and comments to her after school! Halcyon is probably the most modern school you can find in London, if that's what you're looking for.
We also enjoyed a talk by Halcyon director, Terry Hedger, a former principal of the Southbank International School and principal and director of an IB World School in Madrid who shared his vision of Halcyon as "the school with the fittest children in London". Conveniently located a short walk from Hyde Park and from Seymour Leisure Centre, the school also educates pupils about healthy nutrition and provides vegetarian, locally sourced meals at the school cafeteria.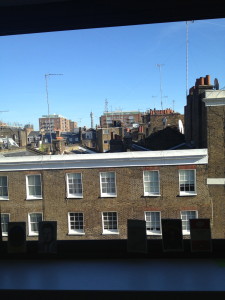 Languages on offer as part of the IB program are Spanish and Mandarin, with advanced French being offered at an additional fee to older students. The school has a fantastic specialist art teacher and the quality of artwork on display at the school is impressive. With many classrooms located on the top floor, they offer beautiful views over Marylebone on a sunny day (see picture on the left). The student body is very international, with a fair amount of American and British children, as well as pupils from around the world. The school already boasts that its community represents 18 nationalities.
After the Open Morning, I was lucky to be able to grab a coffee with two of the founders of Halcyon at the lovely Borough Barista cafe which serves outstanding coffee. I found out more about their vision to set up the first charitable non-profit international school in London that truly prepares children for the future. I have a feeling we will be hearing much more about this school in coming years!
Halcyon currently welcomes students aged 11-16 years (Grades 6-9/Years 7-10) . An additional Grade will be added each year until the school grows to accommodate two of the three IB programmes, the MYP and DP for Grades 6-12. Click here for further admissions information.