On a beautiful sunny morning, I made my way to the Faraday School in Trinity Buoy Wharf. Founded in 2009, Faraday is a small but growing independent primary school in East London, surrounded by converted warehouses that now serve a thriving artistic community. Faraday works on a low fee model to make an independent education affordable to as many people as possible.
The school forms part of the New Model School group that also runs the Maple Walk School in Harlesden, Northwest London. To get to the wharf, one can either take the DLR to East India Docks and walk ten minutes, or the more adventurous can take a private charter ferry from North Greenwich. Luckily for parents, the school offers two school bus routes to and from Limehouse, Wapping and Canary Wharf, among other stops and even travels south of the river to Canada Water.
Upon arrival, I met the headmistress, Mrs Susan Stark, who joined Faraday School last year after many years in British schools abroad. Any visitor will notice that Faraday School itself is very international, reflecting the diversity of families working in and around Canary Wharf. Mrs Stark even described her school not so much as a prep school (although children studying for entrance exams are supported) but as a private primary school with an international feel.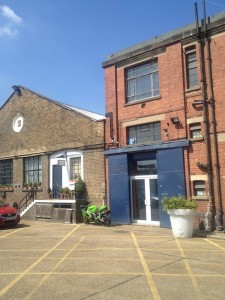 The core curriculum is traditional, with a strong emphasis on literacy and numeracy in the mornings. The school is also in the process of implementing the core knowledge curriculum, advocated by US educator E.D. Hirsch. In the afternoons, teaching is given over to drama, dance, French, PHSE and music, amongst other subjects – many of which are taught by specialist teachers. Their most recent ISI inspection rated their standard of teaching 'excellent'.
This curriculum is greatly enhanced by using "London as a classroom". Mrs Stark shared the many ways in which the school fosters ties with local artists and businesses to make sure the children learn from their community: children are invited to tour exhibitions by local artists, to observe their work and to perform art alongside resident artists. Pupils take many class trips to support their curriculum learning, which have included: Mud Larking on the River Thames, a trip on the Emirates Skyline, a visit to the Walking with the Dinosaurs exhibition, visiting the Tate, Museum of London Docklands and taking part in the Thames Festival.
It is one of the first schools I have seen with a roof terrace made from a recycled shipping container (not to mention one that overlooks the Wharf, a historic lighthouse and the O2 arena), which is used for break time and games (whereas PE lessons are generally held at a nearby park). The school is currently expanding, which means I only got a glimpse of what the school will look like starting this September, as several new classrooms and a dedicated playground are being built.
More information on Faraday School
Children join the Reception class in the year they turn five years old and leave for secondary education at the end of Year 6, when they are 11 years old. Children are welcomed at 8.15 a.m. and can stay at a late club for children until 5.30 p.m. The academic school day runs from 8.45 a.m. until 3.30 p.m. Fees per term for the school year 2014 / 2015 are £2,666.
Visit Faraday School
The next open mornings at the school are held on June 18th and July 3rd. Click here to sign up.
Also read…