I recently visited Miss Daisy's Chelsea, one of London's most sought after nursery schools and was intrigued to find out during my chat with owner Daisy Harrison that she along with her partner Sophie Carter had developed a phonics app to help young children to learn to read and write. I immediately tried out the app with my 4 year old daughter and she loved it, so I asked the founders of the app for an interview for more background on hip hop hen.
The co-founders of hip hop hen, Daisy Harrison and Sophie Carter are passionate and dedicated teachers in the UK. Their aim is to raise the standard of early literacy education and give children the best possible start to learning letter sounds (phonics). hip hop hen's award winning ABC phonics apps are specially designed to introduce children to letter sounds and accelerate reading-readiness. Learning to read is a very important time in a child's learning journey. Learning to read should be great fun and not a struggle. The fact that a letter symbol makes a sound is very abstract for some children and many become disillusioned at the early stages of learning to read.
How did you come up with the idea of hip hop hen?
Daisy and Sophie wanted to make learning to read easy and fun again and make apps so children can learn at home the same way that they are taught at school. So, hip hop hen is being carefully created to inspire children in the early introduction to reading and writing.
hip hop hen has been meticulously researched to combine all the 'best bits' of existing reading schemes as well as totally complementing the UK Primary National Strategy Curriculum, Letters and Sounds. With Ben (our illustrator) we created a family of animals with hip hop hen being the leading member. This family includes: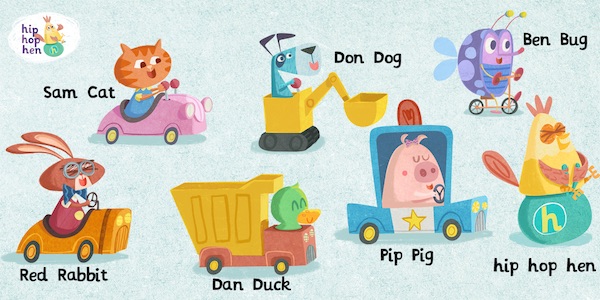 The family of animals' names have been carefully selected to have an easily decodable name as well as their own unique character, these will be revealed in our books, these will be launched at the end of 2015.
We have also specially designed a letter character alphabet (which appear throughout our ABC apps) to help children learn letter sounds.

To date, we have created three awarding winning apps. Our apps were launched in 2014 as EDITORS' CHOICE and FEATURED on Kids' Store for iPad. Our 'abc flashcard songs' app is current NUMBER 1 ESSENTIAL KIDS' APP for AGES 5 & Under.
Our first 3 learning game apps: 'abc flashcard songs', 'abc jigsaw' and 'abc letter tracing' are specially built to introduce children to hear, read and write early phonics sounds in an easy, fun and imaginative way.
We have also created free printable resources, which are very popular with teachers, parents and children.
These resources can be accessed on our website: http://www.hiphophen.com/free/

There are many phonics reading apps already, why did you feel another one was needed?
Yes, there are some phonics apps but, many of them follow the US curriculum and teach the letter name 'ABC' rather than the letter sound 'abc' – so they confuse children. Our apps strictly complement the UK national curriculum. We are in the process of creating a complete phonics reading scheme, which follows the order in which the sounds are taught in the National Curriculum. At the moment, with many reading schemes, as a child improves, the text in the book just gets longer and it includes sounds in words that the children have not been introduced to yet. Our reading scheme is much simpler and each book will focus on one sound. For example if the child was learning the 'ng' sound that you find in king – the whole book will be about a king, singing songs from the top of his lungs.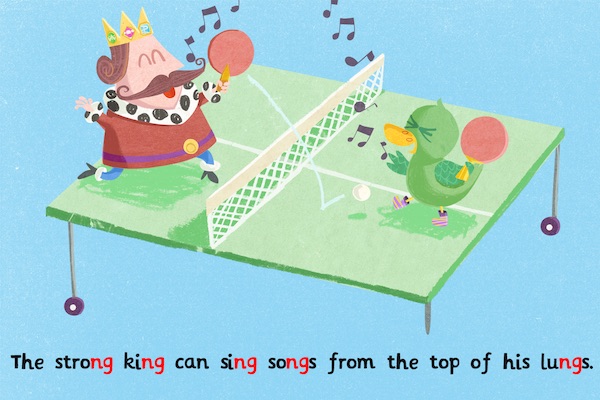 What age range are the apps designed for?
Currently, we have 3 apps available to buy: 'abc flashcard songs', 'abc jigsaw' and 'abc letter tracing'. These apps are designed for ages 2 – 5 year olds.
Our 4th app will be launched in January 2015 and this is a 3 letter word, decodable, CVC (consonant, vowel, consonant) app. This app is designed as a first phonics reading book for 4 – 5 year olds. We are currently completing the reading scheme over 5 more apps, all containing 10 decodable books each. These apps will launched at the end of 2015 and will be aimed at ages 5 – 7 year olds.
Do you think it is beneficial to teaching children to read early (i.e. in their preschool years?)
We strongly believe in learning to read through play in the pre-school years. Children can be introduced to letter sounds through; making play dough letters, drawing and finding letters in sand, drawing letters in shaving foam, singing phonics songs, introducing a child to the letters in their name…
Our first 3 ABC apps are specially designed for pre-schoolers. The apps do not only aid a phonetic awareness but, they help develop many key early learning and pre-reading skills such as:
Speaking and listening
Communication and language development
Joining in with rhythmic patterns
Identifying sounds in words for reading
Phonetic awareness
Finishing rhyming sentences
Concentration and attention
Problem solving skills
Recognition of familiar words, pictures and own name
Fine and gross motor control and co-ordination
Moving, handling and operating age-appropriate software
Shape and pattern matching
All children learn at different speeds. If a pre-school child is ready to start segmenting and blending a 3 letter word and they can distinguish the 3 phoneme sounds then, yes, they are probably ready to start reading. But, we would not endorse pushing a pre-school child to read if they were not ready. Instead, we would sing songs and play sound related games to help a child hear and distinguish between different sounds.
What feedback have you received so far? (from children, parents and teachers)
The feedback has been overwhelming positive from both parents and teachers. All 3 ABC apps have a grown-ups area, which have Early Years Foundation Stage teaching tips. Teachers and parents can use these teaching tips to observe, assess and track children's learning goals whilst they are using the apps. The children at Miss Daisy's three nursery schools extensively test all the apps, so we can see how the children use the apps to learn and adapt the games accordingly to complement all learning styles.
What are your future plans?
On December 18th our abc tracing app is launched 3 new games. Children will be able to colour letter pictures, practise their pre-writing skills as well as write and decorate messages.
Our 4th app will be launched in January 2015 and this is a 3 letter word, decodable, CVC (consonant, vowel, consonant) app.
In 2015, we are going to spend the year completing the reading scheme. To download the ABC apps go to www.appstore.com/hiphophen.