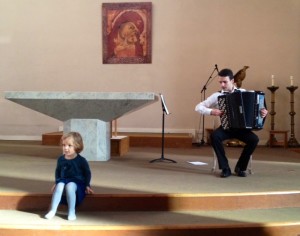 I recently wrote about my favourite early music activities in London and mentioned that I would love to attend a BACH TO BABY concert soon. Founded by pianist Miaomiao Yu after becoming frustrated at not being able to take her children to the sort of quality classical music concerts that she regularly enjoyed as a professional musician, Bach to Baby hosts concerts that run from weekday mornings 10.30 am- 11.30 am, and Friday afternoons 4.00pm – 5:00pm in locations across London (including Notting Hill, Wimbledon, Islington, Hampstead, Fulham).
I was going to take my little daughter to the concert but even my 3 year old got lucky because I let her skip preschool that morning and took her along as well. I told her in advance we were going to a place where she could dance and run around and she made sure to do just that throughout the concert. After an introduction by Miaomiao Yu, accordionist Miloš Milivojević took to the stage performing pieces by Bach, Sarasate, Piazzola and Shchedrin, among others. While he played, children could roam around, dance, drink milk, or as one little toddler did, sleep in their mummy's arms.
At the end, we sat down in a circle and sang nursery rhymes accompanied by the accordion, it was fun! I also got to know a couple of mums from the neighbourhood I hadn't met yet. I must say, with the second child I don't really go to any baby classes, she usually just comes along, so it was nice to go to a place where many mums of babies and toddlers hang out. But most importantly, the quality of the music was excellent and I look forward to next month's Bach to Baby concert already!