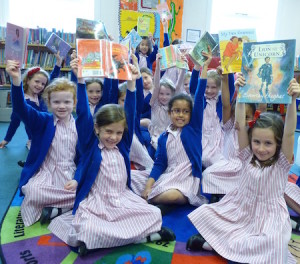 The recent inspection by the ISI (Independent Schools Inspectorate) has given Kensington Prep School in Fulham the highest possible grades across the board – and the top accolade rarely received: 'Exceptional' for the 'quality of pupils' achievement and learning'.
The inspectors' judgements in all areas are 'excellent', the highest grade a school can receive. There is an additional category in one area – the quality of pupil's achievements and learning – and the school achieved the top grade 'exceptional'.   Very few schools achieve this top grade.
"We think the five-strong inspection team really got under the skin of Kensington Prep and understood the ethos and atmosphere of this 'exceptional' school.  We are delighted that the report is so full of praise for the whole school community – the fantastic staff, girls and parents, together with the Girls' Day School Trust and local governors, who make Kensington Prep School the wonderful place it is," says Mrs Prudence Lynch, Head.
The Inspection Report comments about the school include:
'The quality of the pupils' achievement and learning is exceptional.'
'A caring and trusting environment in which pastoral care is given the highest priority'
'The school is extremely successful in fulfilling its aim to equip all pupils for a changing world that requires, courage, flexibility and resilience'.
'High standards and academic rigour are enriched by intellectual risk taking'
(ISI Inspection Report June 2015)
More about Kensington Prep School