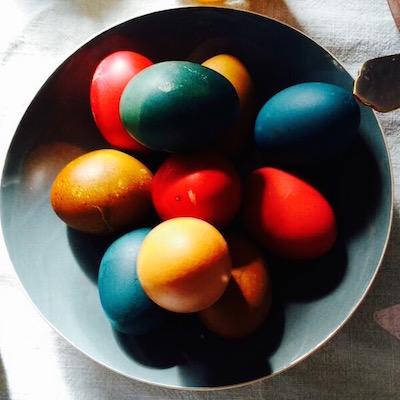 We have only just come back from half-term holidays and it is already time to start planning Easter activities! Most schools break up for somewhere between two and four weeks, with most activities concentrated in the two weeks preceding Easter (weeks starting April 3rd and April 10th). Some schools organise their own holiday activities as well. Here is an overview of Easter camps and activities that we can recommend or have been recommended by other parents across London:

Sports
The Richmond Gymnastics Association runs professional Easter camps for children from Reception age upwards. The camps run on a weekly basis from 9am to 1pm. Henry Lamb Tennis offers Easter camps located at Putney High School, Kensington Prep and Newton Prep School. We are also big fans of Love Swimming fast track courses held at the luxurious Dolphin Square gym in Pimlico. Net-it camps for Netball, Hockey and Rounders are highly recommended as well!
Drama, Music and Dance
Perform run drama courses from children 4+ to boost their confidence via fun and games. Theatrebugs run drama camps for kids aged 3 – 7, ending in their own performance at the end of the week. Stagecoach is a well established drama programme for kids. While they run term time activities for children aged as young as four, their holiday camps are for children from 8 to 18 only.
For children aged 7+, the best camp in this category is probably the one offered by the Sylvia Young Theatre School in Marble Arch.
The English National Ballet School offers courses for children aged 5+ from April 3rd to 5th. The Place near Russell Square runs great Easter dance courses for children of all ages 4+. The Strings club runs introductory music camps for a variety of instruments across London.
Science and Technology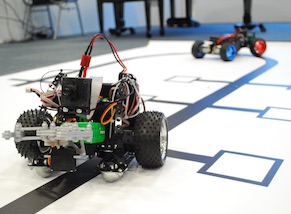 For the serious techies, FunTech Camps in North London offer a variety of summer camps ranging from JavaCoding to Minecraft in several North London locations and Richmond. Firetechcamp offer technology and coding classes (including Robotics) for children aged 7 – 18 located at Imperial College in South Kensington. Mad Science camps are geared to younger children from 4 upwards and introduce children to the excitement of exploration and experiments. Camps are offered across London. Little House of Science Easter workshops are another option for budding scientists. North Londoners may head to Mother Nature Science instead. Mini-Engineers run exciting themed LEGO camps in Central London for children between 5 – 11.
Code Today offers introduction to Python Programming courses for kids aged 8+ near Finchley Road.
Of course there are also legendary Robotics camps offered by the London School of Math and Programming. For 9 to 17 year olds, a 2 day (or 6 day) introductory course: Saturday 1 to Sunday 2 April with option to continue 4 more days to Thursday 6 April. 4 day course: Monday 3 to Thursday 6 April for children with good previous experience of coding or robotics. All courses run from 10am to 3pm at their High Street Kensington School. For the 6 – 10 year olds, there will be an introductory robotics camp using a great robotics kits called Robbo. This will be a 4 day course from 10am  to 1pm, running between April 10th – 13th.
Academic
Chelsea Young Writers run acclaimed creative writing workshops run by established children's authors targeted at age group 6 – 13. For language immersion, head to the Hua Hsia School in Hampstead (Mandarin) or Etpatatipatata in Fulham (French).
If it is 7+ / 8+ / 11+ / 13+ prep crash courses you are looking for, head to Exampapersplus.co.uk and enquire about their Easter prep sessions.
Multi-activity, exploration and outdoors
If you're looking for full day activity camps, Camp Beaumont offers summer camps at King's College Wimbledon, Mill Hill and Colfe's among others, while Supercamps runs Central London camps at St Nicholas Prep School in South Kensington, Putney High School and Latymer Upper School, among many others.
My children really enjoy the Youngstars camps aimed at 3- 7 year olds as well. They are held across SW London.
First Hand experiences offer varied outdoor experiences across London. For the full outdoor experience, Little Forest Folk are the experts but beware, their holiday camps sell out in no time.
Other activities
Of course, you may not actually be looking at camps or childcare and just need inspiration for what to do with your children during the holidays. Here are some of our top things to do with your child this London for the perfect "staycation" in London
Family art workshops at the Royal Academy of Arts are spectacular!
Head to the Robots exhibition at the Science Museum, if you have not already
book a Westend show like "Three Little Pigs", "Mathilda" or "the Gruffalo", followed by lunch or dinner in Chinatown
spend a day outside of London on a farm. Our favourites are Bucklebury farm in Berkshire and Bocketts Farm in Surrey. Horse riding at Vauxhall City Farm also highly recommended, especially their "Own a pony for a day"!
a day on the Princess Diana Memorial Playground (come early to beat the crowds!) and/or Battersea Park Zoo
a creepy crawlies session at the Chelsea Physic Garden or any of their other family activities
for preschoolers, the Music House for Children in Shepherd's Bush always runs lovely shows and events
Little Angel Theatre in Islington and Polka Theatre in Wimbledon will spoil you with the breadth of their events
visit the Museum of London Docklands
spend a day in Greenwich exploring Greenwich Park, Cutty Sark, the National Maritime Museum, the Royal Observatory…
what are you planning to do in London over Easter?