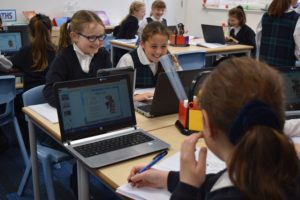 Following the success of its launch, St Anthony's School for Girls is extending its scholarship programme, offering unrivalled opportunities for local girls. The expansion of the initiative at the Golders Green-based school will see means-tested scholarships offered at 7+ in both the current academic year and that starting September 2019.
As a result of the thriving project, bright local girls, who otherwise may not have the opportunity, are able to achieve a place a place at a first-class independent school.
Applications are now welcome and provided that satisfactory academic standards are met, the chosen individuals will be eligible for a percentage of their annual school fees to be covered.
Interim Headteacher, Donal Brennan commented: "Our scholarship initiative is a great success and it is inspiring to see our young girls thriving academically and personally in this unique learning environment.
"At St Anthony's School for Girls we pride ourselves on facilitating academic excellence in a challenging yet secure and caring atmosphere. We are delighted to be able to offer these opportunities to help individuals with a strong academic potential to flourish."
For those interested in learning more about the school, an open day is being held on Saturday 22 September, 10am to 12pm. To book a place contact the school administrator, Jessica Green, on: 020 3869 3070 or info@stanthonysgirls.co.uk.