40 Charterhouse Square, London EC1M 6EA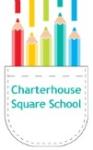 Profile: Charterhouse Square School is a very popular co-educational and non-selective prep school in the City of London for children aged 3 to 11. The school was rated as Outstanding in its 2012 Ofsted report:
The curriculum is outstanding. Pupils enjoy superb lessons that excite their interest and they greatly enjoy their learning… Charterhouse Square School provides an outstanding education for its pupils. It very successfully meets its aims. The school rightly prides itself on the exceptional contribution it makes in developing pupils' self-assurance and overall well-being. It makes outstanding provision for the curriculum and teaching and in promoting the pupils' spiritual, moral, social and cultural development.
Given the choice of nearby senior schools (City of London, Highgate…), the school is certainly academically oriented. Children receive homework already at nursery, and the school very much ensures children progress fast in Maths and English. At the same time, parents describe staff as dedicated, warm and approachable. Families are mostly local from Islington, Clerkenwell and Shoreditch. It is very much an urban school with limited space and facilities. The school is owned by the Cognita Group.
Admissions: Charterhouse Square operates a non-selective admissions policy similar to Bute House:
Entry to our school is at 3 years old. Children must turn three before 1st September of their admission year. Children may be registered from birth to the 30th June of the year preceding their admission year. Please see the timelines below. Places are allocated by a ballot which is drawn by the Headmistress, the School Registrar and an Education Officer from Cognita on the 1st July or the nearest working day. We offer 26 places. Registered siblings automatically receive a place dependent on their brother or sister attending Charterhouse Square School in the September that they are due to start. Therefore it is only for the remaining places that the ballot is drawn.
Exit Results: Charthouse Square School publishes detailed exit results for each year group. Popular destinations a the City of London School for Boys and for Girls respectively, Queen's College, Portland Place, Forest School, Highgate and a wide range of other senior schools that include North London Collegiate School and Westminster Under. Some children move over to St Paul's Cathedral School at 7+. Details are provided here.