2 New Change, London EC4M 9AD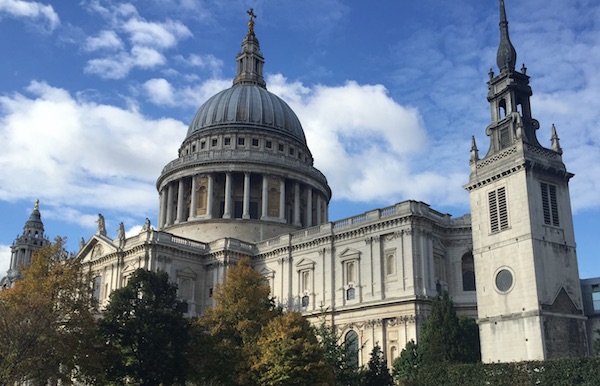 Profile: St Paul's Cathedral School is a co-educational preparatory school for boys and girls aged 4 to 13 and a residential choir school for the boy choristers of St Paul's Cathedral. The school has a unique location in the heart of the City of London and a history that can be traced back to the 12th century. The school is very lucky to consider the cathedral its very own 'school chapel' which pupils visit twice a week for assembly. The school's history dates back to 1123, when 8 boys in need of alms were provided with a home and education in return for singing the Cathedral Office. As such, it could likely be considered one of London's oldest schools. Nowadays, it is housed in a modern building on New Change that was purpose built in the 1960s. The school became co-educational a bit over 15 years ago.
The curriculum is broad and well-rounded. The school follows the IPC (International Primary Curriculum) in Key Stage 1 and the first years of KS2, which emphasises cross-subject learning and global awareness. It is decidedly not a hothouse and children are considered "children first and pupils second", according to the school. As such, pastoral care and personal development are of central importance at the school. Music takes centre stage at the school, as you would expect, with the majority of pupils learning two instruments over their time here. Pupils tend to start on the piano or the recorder in Reception or Year One and then add a second instrument over time from a wide variety of choices (viola, cello, violin, flute, oboe, to name but a few). The appointment of Mr Simon Larter-Evans, previously Head of Boarding and Head of English at the Yehudi Menuhin School in Surrey, underpins the importance of music at the school, as you would expect from one of the most prominent choir schools in the country.
The approach to technology is "healthily sceptical", according to Mr Larter-Evans, and the school ensures the use of technology enhances learning and does not become a toy for distraction. At the same time, the school does teach programming as part of the computing curriculum, and there is an app club for budding techies.
Given its central location, the school attracts a wide range of City parents working in media, law, finance and architecture, but it is also very popular with Islington parents, particularly from 7+ onwards. The school offers a liberal education that encourages children to ask questions, and as such tends to attract liberal, progressive parents. It is not the type of school that will push children to get into the most selective school possible at all costs, but rather a school that offers a broad, thorough education and prepares them for a school best suited to their abilities and personalities. To the visitor, children at the school look relaxed, happy, confident, collaborative and friendly, which reflects the supportive and inclusive ethos at the school.
There are about 34 choristers boarding at the school at any one time. They are housed in a separate building in bright, comfortable dormitories. There are two resident, fully qualified nurses who look after the choristers' health and hygiene and who have flats in the boarding house; other residential staff live adjacent to it. The choristers have their own common room with a snooker table, air hockey, table football, play stations as well as a television. They take all meals in the school dining room.
Admissions: For 4+ entry, apply asap after birth for the right to be assessed for entry. One form entry via 4+ assessment into Reception. There is sibling priority, so it is generally quite hard to gain a place at this stage. The school is not so much interested in academic potential only, but looks for children who will work well with the group and display an enthusiastic and friendly attitude in class. Another 20 children are accepted at 7+ (Children's House School in Islington and nearby Charterhouse Square School regularly send kids here at this stage), and this includes the choristers who join as boarders at this stage. Occasional vacancies do occur from time to time in other year groups, and the school generally has a few places available at 11+.
Exit Results: Pupils are prepared for 11+ and 13+ entry to a wide variety of London Day and boarding schools. Most girls tend to leave the school at the 11+ stage, while boys generally continue until 13+ for Common Entrance. It is not a particular feeder for any school, but common destinations include Alleyn's, City of London Boys', Forest School, Dulwich College, Eton College, Francis Holland, Highgate, King's Canterbury, South Hampstead High School, UCS and Westminster School. Leavers have a strong scholarship record, mainly music scholarships but also a wide variety of academic scholarships.