Fulham Palace Road, London W6 9ER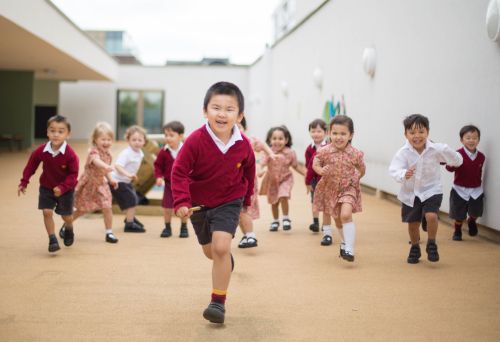 Profile: Kensington Wade is a bilingual Chinese – English nursery and prep school in West London, the first of its kind in the country. While immersion schools are relatively common in the US, Kensington Wade is the first Prep School in the United Kingdom to offer a dual-language English-Chinese education from ages 3–11. At Kensington Wade half the lessons are taught in English and half in Chinese, giving children complete fluency in Chinese as well as English.
The curriculum has been carefully planned to combine the best of the British and Chinese systems. English is taught in a similar fashion to other prep schools, with phonics and reading taught using the Read, Write Inc programme. Maths is taught using the Shanghai approach (also called the Mastery approach) Assessments suggest that children make very fast progress in English, Maths and Chinese when compared to peers in other schools. This may also be a result of the small group teaching and the incredibly supportive and enthusiastic parents who work closely with the school.
Specialist teaching is provided from the very start with all children enjoying music lessons and, as they travel up the school, swimming, sports, computing, Spanish and science.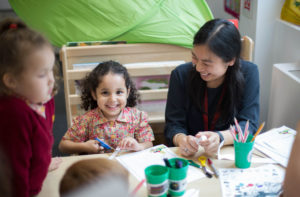 But any visitor will observe that there is plenty of room for fun and play in the early years as well. The atmosphere in the nursery and classrooms is calm and positive, children were having fun playing and they were also well behaved and gentle with each other. The happiness of pupils is a big priority, and the school works closely with all families to make sure that their children feel safe and loved by every member of staff.
The school currently shares its premises with Melcombe Primary but it will move to a new site on Vernon Street in Kensington Olympia.
While the school is new, a highly experienced team has been recruited to make this school successful. Among them, enthusiastic Head Suzanne Haigh (previously at Cameron House School in Chelsea) and Deputy Head is Mary-Anna Malloy, along with Chinese Program Coordinator Jing Wang who worked as a Chinese lead teacher in Washington Yuying Public Charter School, one of the leading Chinese immersion schools in the US, to name but a few.
Our overall impression is the following:
Excellent Headmistress and teachers, very experienced, warm, committed staff
The academic programme is rigorous
Tight knit, supportive, enthusiastic parent community that runs many social events
Children all looked very happy, engaged and friendly. It should be very easy to settle here
Admissions: Children can join Kensington Wade nursery at the start of the term in which they turn three. Spaces may be available in Reception (aged 4-5) and Year 1 (aged 5-6). Entry into nursery, Reception and Year 1 takes place throughout the year until the classes are at full capacity. Siblings will be given priority.
You are more than welcome to come and visit the school at any time. To book a tour, please email admissions@kensingtonwade.com or call 020 3096 2888. Parents are recommended to register their child as early as possible.
Exit Results: The school opened with a nursery and Reception class in September 2017, so it will be another year until the first cohort of children goes through the 11+ process. The school has established strong links with a wide range of senior schools and will prepare children for London day and boarding schools, as required. Standardised assessments internally suggest that children reach a high academic level and will likely to do very well in the 11+ process.
Further Resources: