The French in London are one of the largest (if not the largest) expat groups in London, and their number – usually estimated somewhere around 300,000 (there is a wide range of estimates, so take it as a very rough estimate) – keeps on growing. Add a similar number of otherwise francophone or francophile families, and it is no wonder that the French Lycée, which used to cater for the education of francophone families in London, has become so popular and oversubscribed that dozens of new French and bilingual schools have been set up across the capital. This has certainly helped to alleviate the problem (although it still seems that far more French children move to London than school places are created for them), but at the same time, we are now in a situation where there is a large number of French schools of different types and affiliations, and it is not easy for outsiders to gain an overview.
The first distinction you generally come across when looking at French schools abroad is between those that are "homologuées" and those that are not. Schools that have gone through the process of "homologation" are guaranteed to follow the French curriculum and conform to the educational model. They are also inspected regularly by AEFE (l'Agence de l'Enseignement français à l'Etranger) to maintain their status. This guarantees French or other francophone citizens continuity of education around the world, if they move from one homologue school to the next. In addition, you find a wide range of French nurseries and schools that are not "homologuées", even though some of them may be in the process of working towards accreditation by the French Education ministry.
Generally, it is much harder to gain a place at schools that are "homologuées", because most French expats would strongly prefer those to ensure they can transfer to other French Lycées abroad if required. So if all you want is some French language exposure and you don't worry so much about the French national curriculum as such, you would be in a much easier position.
Of the schools that are "homologuées", there are three categories depending on their link with the French education ministry, their level funding and their management:
1) Etablissement en gestion directe: schools directly managed and funded by AEFE. Here, the headmaster is appointed by AEFE and changes every five years. Only the Lycée Charles de Gaulle falls into this category, although it is made up of several campuses, attended by 4,000 pupils in total:
Lycée Charles de Gaulle (South Kensington): this is the original «French Lycée» and the largest French school in the UK with 3,000 pupils in their primary and secondary school. The primary school offers French and bilingual classes. In the secondary school, children can choose between the French and the British section to study for GCSEs and A-Levels. The British section frequently ranks in the top schools in the country for GCSE and A-Level results. The Lycée has a reputation for high academic standards and is generally more focused on academics, with less time and facilities dedicated to sports, music and arts, when compared to British schools. However, excellent results and university destinations, especially in Maths and Sciences, make this a very attractive choice for many.

Ecole de Wix (Clapham): a French lycée primary school in Clapham from where children can transfer to the secondary school in South Kensington. It is very oversubscribed (as all the other French schools!). The bilingual classes are run together with community primary Wix Primary School.

Ecole de Marie d'Orliac (Fulham): another primary school linked to the Lycee in South Kensington. It offers French and bilingual streams for children from 4 – 11. The bilingual classes are run in cooperation with local Holy Cross School, a Catholic state school.

Ecole d'André Malraux (Ealing): the fourth Lycee primary with 300 pupils in 11 French classes. It is a one form entry school (except for two forms in CP / Year 2).
Due to how the schools are funded, their fees are comparatively low at £2,000-3,500 per year, but of course class sizes are comparable to other state schools at around 30.
2) Etablissements conventionnés: these are partially funded by the French education ministry (via AEFE) and teachers and the headmaster will be appointed by AEFE. But these schools have their own management board and a higher level of independence. Of course, being homologuées, they follow the same curriculum as the Lycée:
Ecole Jacques Prevert (Hammersmith): The school was founded in 1974 as a result of private investments. The school became a non-profit making organisation registered as a charity. It has always had a small number of pupils because of space limitation. There are approximately 260 children from the ages of 4 to 11 in eleven classes. School fees are about £5,000 per year.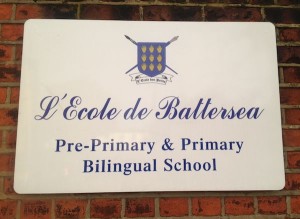 3) Etablissements dotés de statuts privés: these are private schools that have been fully accredited by the French education ministry but are privately funded by fees and appoint and recruit their own staff and headmaster. Their fees might be higher, but they often have the benefit of much smaller class sizes and a broader extra-curricular programme. There are many private French and bilingual schools in London, but below are those that are fully accredited by AEFE and therefore guarantee quality of teaching and full alignment with the French curriculum:
CFBL (Kentish Town):

previously a French primary school named L'Ile aux Enfants in Camden, it reopened in September 2011 on new premises with the name CFBL, this is a large modern French school that goes all the way up from Petite Section to Year 10 (ages 3 – 15). It received an Outstanding rating from Ofsted in September 2018. Application takes place in October preceding the year of entry. It is a private school under English law and is inspected both by Ofsted and AEFE.

School fees are approximately £11,000 per year.
Lycée International Winston Churchill (Wembley): this French school with modern facilities in North London opened in 2015. In September 2017, Lycée International de Londres Winston Churchill welcomed 900 students and opened five Terminale/ Year 13 classes ( L, ES et S). Lycée International de Londres Winston Churchill is accredited (homologué) by the French Ministry for Education from Year 1 to Year 13 and is a partner of the AEFE network (Agency for French Education Abroad). Students are educated in a bilingual and international environment where the excellence of the French education system goes hand in hand with modern and innovative teaching practices, all centred around the harmonious development of the child. Since September 2018, the Lycée has offered a new English International Programme, starting from Year 7 for English speakers, leading to the International Baccalaureate Diploma Program (IB DP)* in Years 12 and 13. Lycée International de Londres Winston Churchill has been an accredited IB school since April 2019.  
L'Ecole des Petits, L'Ecole de Battersea: founded in 1977 by Mme Otten, L'Ecole des Petits was the first independent pre-primary school in Great Britain to be officially recognized as an Ecole Homologuée by the French Education Authority (AEFE). Children of 35 nationalities attend the school, although a majority hold a French passport and most are francophone. Children aged 3 – 6 attend L'Ecole des Petits in Fulham. L'Ecole de Battersea was opened in September 2005 to offer more places in maternelle (3 – 6) and extend the age range to 11. The school combines the high standards of French education intermingled with aspects of the English curriculum in small classes of around 20 children, and with an extra-curricular programme to rival British schools: yoga, drama, basketball, football and fencing are just some of the activities on offer, and children in CM2 produce an impressive Shakespeare show each year. The teaching is bilingual, the children become bilingual, many move on to French secondary schools, but a growing minority transfers to selective British schools at 11+. The school is rated "outstanding" across all categories by Ofsted. You need to apply very early for a place.
La Petite Ecole Française: this small French nursery and primary school teaches 130 children from 3 to 10 in classes up to 20. It aims to provide a nurturing homely environment in which children can thrive. It is rated outstanding by Ofsted and you should apply as early as possible.
L'Ecole Bilingue: originally opened in South Kensington in 2004, this small bilingual private school is now located close to Paddington Station and Warwick Avenue in Little Venice. It is set in a converted church with an outdoor playground in front and a small garden in the back. Class sizes are small with 15 children per class per year group and individual support is given to children in both languages. The school flexibly combines the best teaching methods of the French and the English system, thus combining high academic standards with opportunities for children to play and explore. The school is open to children from 3 – 11.
L'Ecole Internationale Franco-Anglaise (EIFA) in Marylebone opened in 2012 and has just received homologation. It currently provides a fully bilingual education for children aged 3 – 11 and is due to open a bilingual secondary school nearby in September 2015, which will eventually offer a bilingual IB Diploma. With 160 children across eight year groups, it is of course full already. As you can guess from the name, its student profile is more international than at many other homologue French schools, and there is extra language support for children who start with little or no English or French.
Le Hérisson School is a secular French nursery school. Founded in 1989, the school welcomes up to 76 children between the ages of 2 to 6 years old. Pupils are split into 4 classes, depending on their date of birth. It is located near Ravenscourt Park in Hammersmith. The school has recently added a 

Bilingual Early Years

 class for 2-4 year olds where children are taught from the British curriculum in both French and English, and is now a member of the Independent Schools Association.
Pupils who study at these schools are guaranteed a secondary place in one of the French schools (Lycée Charles de Gaulle, CFBL, Wembley), but they may not get their first choice place, unlike children studying at one of the primary schools in category 1, who are guaranteed a secondary place in South Kensington, if they so wish.
In addition to the homologuées schools, there is a long list of private French and bilingual institutions, especially nursery schools. La Chouette nursery school in Ealing is one popular example, and L'Ecole du Parc in Clapham has been highly recommended by several parents, but an overview of French nurseries will certainly require a separate article! Also note that due to high demand, several new schools and nurseries are created each year, and some private schools are working on their homologation, so the information above is subject to change! An exciting newly opened school is the bilingual Ecole Jeannine Manuel on Bedford Square in Fitzrovia.
If instead you are looking for a bilingual Spanish – English prep school, you might be interested in the new bilingual stream at The Roche School in Wandsworth, London.