St Giles' Terrace, Barbican, London EC2Y 8BB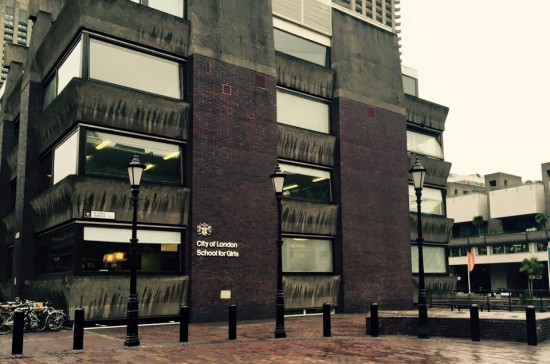 Profile: Located at the heart of the City of London, next door to the Barbican, the Guildhall School of Music and Drama and the Museum of London, the City of London School for Girls is one of London's oldest standing and highest achieving schools. Educating girls all the way up to 18, unusually for a girls school, its initial intake is at 7+ into the prep department. Girls at this stage join from a wide range of pre-preps and local private schools. At a recent 7+ open morning, we spotted a number of girls from Hampstead Hill School, Mulberry House School, nearby Gatehouse School and River House Montessori, as well as smaller numbers from Blackheath High School and Hill House International Junior School. Girls have also joined from Children's House Upper School, Heathside Prep, Annemount, Dallington, Charterhouse Square, Queen's College Prep and a wide range of state schools. Given its location, girls come from far and wide, and there are three different school bus services bringing in pupils from Sloane Square, Notting Hill as well as Hampstead and Golders Green.
The prep department is located in the same building as the Senior School, and therefore girls at the prep enjoy access to a wide range of facilities that include a swimming pool, a gym, a netball court and dance studio on site (who would have thought, walking around Barbican or London Wall?). The school is obviously very popular with City parents who can drop off their daughters on their way to work, but it represents a wide ethnic and socioeconomic mix, especially in the senior school, where 27% of girls receive financial aid. City of London Prep itself is small with one form of 24 girls. You do notice their deference to the senior school girls when you tour the school. My guides constantly reminded me "you're not allowed to go there" and "we can't go in there" when passing the senior school science and computer labs.
The curriculum is rich and diverse, with girls studying four languages during their prep years (Spanish in Year 3, French in Year 4, German in Year 5, Mandarin in Year 6), followed by Latin and Ancient Greek in the senior years. In fact, the first classroom I passed during my tour was filled with 15 teenagers studying Ancient Greek, eliciting memories from my school days. Music is highly valued at the school (no wonder, given its proximity to the Barbican Centre and the Guildhall School of Music and Drama). Year 3 teacher Mrs Luddington is a violinist and also heads up the prep school orchestra. Children who join the archaeology club spend every Wednesday afternoon exploring the diverse collections of the Museum of London.
The school is very open about its academic nature and emphasises all girls operate at a very high level throughout. Children are assessed via internationally standardised tests to ensure they make adequate academic progress compared to their intellectual potential. At the same time, homework is relatively light compared to many other prep schools, ramping up from 15-20 minutes per day in Year 3 to 40-60 minutes per day in Year 6. The school does offer optional extra work to particularly eager girls, however, and apparently there are many takers. Indeed, word of mouth feedback is that the school has a competitive atmosphere and attracts a high number of what you would call tiger parents, even when compared to other top London Day schools.
Prep school head Jane Roberts is adamant that the prep school does all 11+ prep work required and is very good at it, so tutoring of any kind is actively discouraged. Her advice is that "if your daughter needs tutoring to get in, it's probably not the right place", and this goes for the 7+ as well as the 11+. How many parents heed to this advice is probably another question!
There is an after-school club with a dedicated supervisor that children can attend regularly or on a flexible basis. Children are taken to the senior school library, have a snack, do their homework and then play. The cost is £5 per day if used occasionally or payable termly at a slight discount.
Admissions: Entry to the prep department is via competitive 7+ exam, taken while the girls are in Year 2 for Year 3 entry. Early registration, at the latest during the early stages of Year 1 is highly recommended, as only the first 150 candidates to be registered are invited to the exam, unless someone drops out. As of September 2016, registration lists for 2017 are already closed, and the 2018 list, which opened on 1 September, already had 100+ registrations a couple of weeks later. Of those 150 candidates, 50 are invited back for a second round. The assessment includes standardised tests, which take into account the age of a child by birth month, as well as the school's own tests. In addition, candidates take part in Science, English and Design Technology lessons and are observed interacting with their peers. Offers are therefore not only made based on academic performance (although very high academic performance is required) but positive behaviour towards staff and peers as well as independence and confidence are expected. According to prep head Mrs Jane Roberts, the best 7+ preparation is to have your child read high quality children's literature aloud to you and make sure they know their times tables. Working on story writing is also important if they attend a school where this is not sufficiently emphasised.
But "we don't want kids who can do everything already – how boring would my job be?", insists Mrs Roberts. "We want girls who are eager to learn and work with us".
The prep school takes up to 24 girls into Year 3 but does over-offer, putting parents under time pressure to accept the place before results from other schools are out. Only the first 24 parents to accept get a place. Clearly, the school favours families who see CLSG as their top choice, not those secretly hoping for a place at Bute House or NLCS. There is an additional intake of 75 girls at 11+ into the Senior School, at which point eligible families can apply for financial aid.
Exit Results: Most girls from the prep department transfer to the senior school. Some candidates try their luck at St Paul's Girls' School at 11+, while others have moved onto South Hampstead High School or boarding school at 11+. The prep school discusses these options with parents during Year 5 and helps girls with their preparation for alternative schools, if required.
Similar schools: