Earsby Street, London W14 8SH
Profile: St James Prep School is a co-educational independent school for boys and girls located in beautiful modern grounds in Kensington Olympia. It is linked to St James Senior Girls' School on the same site and St James Senior Boys' School in Ashford, Surrey. The building housing the school is modern and spacious, a rare gem among Central London independent schools. I was particularly impressed by its state of the art gym and lovely playground during my visit. In recent years, St James Prep School opened a nursery on site in addition to their prep school, as a result offering education for age ranges 2 – 18.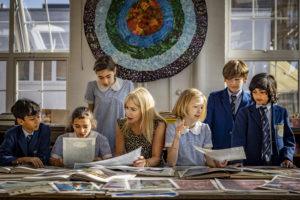 A unique feature of the St James education is its broad curriculum that includes classical elements such as the study of scripture, philosophy and Sanskrit from an early age. You will also notice the high quality of art work on display throughout the school. St James offers its pupils "moments of stillness and reflection" before and after each lesson, and this contributes to an atmosphere of calm throughout the school that many visitors pick up on.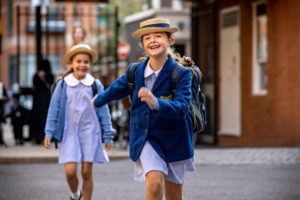 In September 2020, Mr. Kris Spencer joined the school as the new Head. He was previously the Deputy Head at nearby Notting Hill Prep School. Prior to joining NHP, he had worked at Westminster School, St Paul's Girls School (Head of Geography), Abingdon School (Head of Geography/Day Housemaster) and Latymer Upper School (Assistant Head), which is a major asset as he guides parents through the 11+ minefield of London Day Schools. While children have the option of staying on at St James' Senior School and this is an increasingly popular option for many, the prep school absolutely supports parents who want to go through the 11+ process and advise them on suitable target schools from Year 5 onwards.
Admissions: Early registration is highly recommended. About a year before entry, children are invited with their parents to spend time at the school. This is not intended as a formal assessment, but the school looks for mature children who will settle in well as part of the community. As a first step, it is advised to book a virtual tour of the Prep School or Nursery. Virtual tours of the Prep School take place on Wednesday mornings at 10.00am, and Nursery tours take place every Monday morning at 10:00am. Each tour lasts approximately 45 minutes and will include a welcome address from the Head of the Prep or the Nursery, and a presentation followed by a Q&A.
The school also has a small intake for candidates applying from pre-prep schools at 7+/8+.
Exit Results: While most children move on to St James Senior School, they are prepared for the 11+ at other schools, should they so wish. Since the boys' senior school is located further away in Surrey, some boys move on to other local independent schools such as St Paul's or Latymer Upper. Other school destinations include Merchant Taylors', Ibstock Place, Emanuel, St Mary's Ascot, Queen's Gate, Aldenham and Hampton. The following page lists detailed destination schools from 2022.
Further Resources: