5 Wetherby Place, London SW7 4NX (Early Years)
15 Manresa Road, Chelsea SW3 6NB (Main School)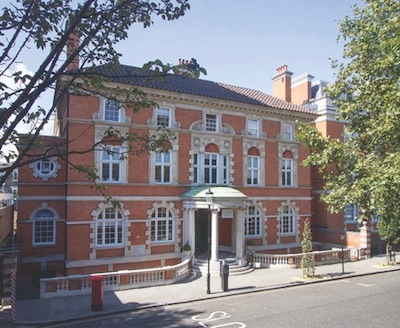 Profile: The Hampshire School is a co-educational pre-prep and prep school for children aged 3 to 13 years that prides itself in being "the happiest school in Chelsea". It was founded in Surrey by Mrs Jane Hampshire in 1928. It moved to Knightsbridge in 1933 and is now spread across two sites, the Early Years at 5 Wetherby Place and the Main School at 15 Manresa Road. Its current  Head, Dr Pamela Edmonds, joined The Hampshire School in September 2018.
5 Wetherby Place houses the nursery and Reception classes in a beautiful building (see picture on the left) around the corner from Gloucester Road tube station and a stone throw from St Philip's prep school.  Children can start in the nursery in the term that they are 3 and can attend full days as soon as they are ready. Class sizes are small and strong support is provided to enable children to make rapid progress in all areas. Children are introduced to phonics using the Read Write Inc. scheme from nursery. The early years curriculum is enhanced by weekly French, gym, swimming, ICT, drama, dance, ballet, music, art and library sessions by the school's specialist teachers. The Early Years department is led by Mrs Bronwyn Kidd, originally from South Africa, who has been at the Hampshire School for 8 years. She is passionate about making learning fun for the children and giving them a gentle introduction to school.
From Year 1, children progress to the main school at 15 Manresa Road. Facilities are very impressive for a Central London school. Rooms are bright and modern, there is a large outdoor playground and a beautiful old library, as well as a gym, among many other things.
The school is friendly and inclusive and provides an enrichment programme for gifted and talented children as well as additional support for those who need it. Many staff members have been with the school for a considerable time (20+ years in the case of one teacher), a testament to its family atmosphere.
There is an extensive extra curricular programme which includes activities such as art, board games, chess, computing, cooking, dance, drama, drumming, gymnastics, ICT, judo, orchestra, poetry, science, swimming, football, hockey, golf, tennis, fencing, horse-riding and archery.
Particularly attractive for working parents, the school offers a school bus service covering Westminster, Pimlico, Chelsea, Fulham, Kensington, Notting Hill, Bayswater, Paddington, Maida Vale, and the Park Lane area of Mayfair. There is also an optional Early Bird Club from 8am as well as a Stay and Play/Study programme offering after-school care until 6pm, which is very rare if not unique among prep schools in the area.
The Hampshire School is owned by GEMS Education and offers bursaries and scholarships to eligible students. Details can be obtained from the school upon request.
Admissions: Entry to the school is selective at all stages. Parents are invited to tour our Early Years setting, with the Headmistress or Registrar, Miss Ollie. To arrange a tour please call or email the Registrar directly. At the end of the tour, you will be given an application form and a second appointment is arranged for your child to be assessed in an informal relaxed atmosphere by the Head of the Early Years. All of the early years assessments are done as a "play-date" with a few other applicants. For entry to the main school when occasional vacancies arise, children will be invited in for a taster day. The aim of this is to give the child an overview of a day at the school. This may involve activities such as assembly, sport, playground time and of course normal lessons. At some point during the day, a teacher will complete some assessments with the child. This is in the form of an English and a Maths paper.
Exit Results: The Hampshire School has strong links with a wide range of London Day Schools and boarding schools and is committed to finding the right fit for each child. This is reflected in the list of senior schools children move on to following their 11+ and 13+ examinations. Co-educational schools Latymer Upper, Harrodian, Emanuel School, Kew House and Alleyn's  are popular, but some children move on to Dulwich College, St Paul's, City of London, Wetherby, Francis Holland, Godolphin & Latymer and other single sex senior schools.