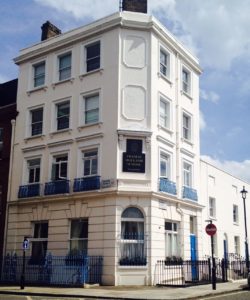 Most schools have published their results by now, although some results are preliminary, but we are releasing the top 80 London secondary schools based on % of A* grades at GCSE already. It looks like the new tougher GCSE have benefitted the most academic schools in the country, as many of them report record results.
The top five schools are unlikely to change, but we will add further schools as more detailed results are released. St Paul's Girls' School takes the top spot again this week, following its top spot in the A-Level rankings last week. Only 732 pupils in the whole country managed a "clean sweep" of ten or more A* grades, but there were 77 such pupils are North London Collegiate School, 59 at the Westminster School, and 39 at the Latymer Upper School.
Despite the fact that the top spots are taken by the usual suspects, a few schools have done especially well this year. The Hampton School and Highgate have edged up in the rankings for GCSEs and A-Levels, and many GDST schools have had fantastic results, too! Follow this post for further updates. St Paul's School will not release their results until November, but they have issued a press release that their percentage of A*'s and A*-A's were highest in three years, from which we were able to estimate the school's position.
| | | | | | |
| --- | --- | --- | --- | --- | --- |
| | School | Type | Gender | % A* | % A*-A |
| 1 | St Paul's Girls' School | private | Girls | 92.6% | 99.2% |
| 2 | North London Collegiate School | private | Girls | 87.3% | 97.2% |
| 3 | Godolphin & Latymer School | private | Girls | 85.5% | 97.5% |
| 4 | Westminster School | private | Boys | 85.2% | 97.1% |
| 5 | Henrietta Barnett School | state | Girls | 82.3% | 95.2% |
| 7 | King's College Wimbledon | private | Boys | 80.6% | 95.9% |
| 8 | Tiffin Girls | state | Girls | 79.4% | 94.1% |
| 9 | City of London School for Girls | private | Girls | 79.0% | 95.0% |
| 6 | St Paul's School | private | Boys | 78.5% | 96.1% |
| 10 | Habs Girls | private | Girls | 78.0% | 94.0% |
| 11 | Queen Elizabeth School, Barnet | state | Boys | 76.5% | 91.7% |
| 12 | Lady Eleanor Holles | private | Girls | 76.0% | 92.3% |
| 13 | JAGS | private | Girls | 75.0% | 92.0% |
| 14 | Hampton School | private | Boys | 74.0% | 93.0% |
| 15 | Notting Hill & Ealing High | private | Girls | 74.0% | 92.0% |
| 16 | Highgate | private | Co-ed | 73.7% | 92.2% |
| 17 | Putney High School | private | Girls | 73.1% | 92.1% |
| 18 | Alleyn's Dulwich | private | Co-ed | 73.0% | 92.0% |
| 19 | Haberdasher Aske's School for Boys | private | Boys | 72.0% | 93.4% |
| 20 | St Olave's Grammar School, Bromley | state | Boys | 71.4% | 86.7% |
| 21 | South Hampstead High School | private | Girls | 71.0% | 89.0% |
| 22 | Wimbledon High | private | Girls | 70.9% | 92.1% |
| 23 | Latymer Upper | private | Co-ed | 70.0% | 90.0% |
| 24 | City of London | private | Boys | 67.9% | 90.5% |
| 25 | UCS, Hampstead | private | Boys | 66.1% | 87.5% |
| 26 | Wilson's Grammar School, Sutton | state | Boys | 65.5% | 85.5% |
| 27 | Bancroft's | private | Co-ed | 64.2% | 84.9% |
| 28 | Francis Holland SW1 | private | Girls | 63.0% | 83.0% |
| 29 | Newstead Wood School | state | Girls | 62.1% | 86.0% |
| 30 | Nonsuch High School, Sutton | state | Girls | 61.7% | 82.5% |
| 31 | St Michael's Grammar | state | Girls | 60.7% | 82.0% |
| 32 | Sutton Grammar School | state | Boys | 60.3% | 80.5% |
| 33 | Channing School | private | Girls | 59.9% | 84.3% |
| 34 | Latymer School, Edmonton | state | co-ed | 59.1% | 83.3% |
| 35 | Kingston Grammar School | private | Co-ed | 58.0% | 85.0% |
| 36 | Trinity School, Croydon | private | Boys | 58.0% | 88.0% |
| 37 | Eltham College, Bromley | private | Co-ed | 57.5% | 84.2% |
| 38 | Tiffin School | state | Boys | 57.3% | 80.0% |
| 39 | Dulwich College | private | Boys | 57.0% | 84.0% |
| 40 | Ibstock Place | private | Co-ed | 56.0% | 83.0% |
| 41 | St Helen's | private | Girls | 54.8% | 78.8% |
| 42 | Queen's Gate | private | Girls | 54.3% | 80.5% |
| 43 | Forest School | private | Co-ed | 54.1% | 76.8% |
| 44 | Surbiton High School | private | Girls | 50.5% | 77.6% |
| 45 | Northbridge House, Canonbury | private | Co-ed | 50.0% | 70.0% |
| 46 | Croydon High School GDST | private | Girls | 50.0% | |
| 47 | Whitgift School, Croydon | private | Boys | 49.0% | 74.3% |
| 48 | Northwood College GDST | private | Girls | 47.7% | 70.8% |
| 49 | Wallington High School for Girls | state | Girls | 47.0% | 72.0% |
| 50 | Bromley High School GDST | private | Girls | 44.0% | |
| 51 | Francis Holland NW1 | private | Girls | 43.3% | 72.0% |
| 52 | St Augustine's Priory, Ealing | private | Co-ed | 42.2% | 65.8% |
| 53 | Queen's College | private | Girls | 41.8% | 70.4% |
| 54 | St James Girls' School | private | Girls | 41.3% | 63.0% |
| 55 | Harrodian School | private | Co-ed | 40.5% | 66.7% |
| 56 | St Benedict's School, Ealing | private | Co-ed | 40.4% | 66.0% |
| 57 | Lady Margaret School | state | Girls | 39.8% | 58.2% |
| 58 | Wetherby Senior School | private | Boys | 38.8% | 67.8% |
| 59 | Wallington County Grammar School | state | Boys | 38.6% | 63.2% |
| 60 | Emanuel School | private | Co-ed | 38.0% | 63.6% |
| 61 | Colfe's School | private | Co-ed | 37.8% | 60.8% |
| 62 | Blackheath High School GDST | private | Girls | 37.0% | |
| 63 | Northbridge House, Hampstead | private | Co-ed | 34.0% | 56.0% |
| 64 | Sutton High School | private | Girls | 33.5% | 55.3% |
| 65 | Mill Hill School | private | Co-ed | 32.4% | 56.8% |
| 66 | Ashbourne College | private | Co-ed | 32.4% | 50.5% |
| 67 | Cardinal Vaughan Memorial School | state | Co-ed | 28.7% | 55.4% |
| 68 | Greycoat Hospital | state | Girls | 28.4% | 49.3% |
| 69 | The London Oratory School, Fulham | state | Boys | 28.2% | 47.8% |
| 70 | Camden School for Girls | state | Girls | 28.1% | 49.2% |
| 71 | Graveney | state | Co-ed | 27.9% | 48.2% |
| 72 | Bexley Grammar School | state | Co-ed | 27.4% | 51.0% |
| 73 | Alexandra Park School, Haringey | state | Co-ed | 26.3% | 43.8% |
| 74 | St Marylebone | state | Girls | 26.0% | 45.0% |
| 75 | Waldegrave School | state | Girls | 25.9% | 43.8% |
| 76 | Fortismere School | state | Co-ed | 24.0% | 42.0% |
| 77 | Mossbourne Academy | state | Co-ed | 21.3% | 36.0% |
| 78 | Grey Court School | state | Co-ed | 20.3% | 40.0% |
| 79 | Coombe Girls School, Kingston | state | Girls | 20.0% | 36.2% |
| 80 | West London Free School | state | Co-ed | 19.8% | 34.5% |