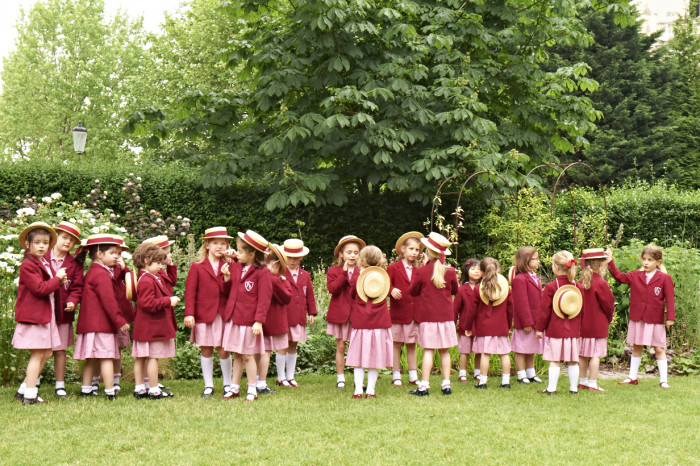 Whenever you hear people talk about oversubscribed London schools and parents emailing registration forms from the labour ward, chances are they are referring to Wetherby Pre-Prep or its sister school, Pembridge Hall, on Pembridge Square in Notting Hill. While you might hear many stories about it, it is not easy to visit the school, since school tours are restricted to those families who are offered a confirmed place. I was therefore very grateful for the opportunity to meet Mr Keighley-Elstub, headmaster of Pembridge Hall since September 2012, for an interview and a tour of the school on a sunny Wednesday morning in September.
Pembridge Hall is set across two beautiful villas on Pembridge Square. Number 18 houses the Lower School, Number 10 the Upper School (with Wetherby Pre-Prep conveniently located in between at number 11). The school has an open door policy for parents and I could see this in action as two parents dropped in with their toddlers for various reasons in the few minutes that I waited to begin the interview.
Mr Keighley-Elstub has been headmaster of Pembridge Hall for just over two years, before which he was deputy head at Wetherby Prep School. So the obvious first question was how he had found the change from a boys' prep school to heading an all girls' school? He assured me it is not at all different, and that he felt the same approach very much worked for both. I was quite relieved to hear that, as in recent years many heads tend to overemphasize the difference between boys and girls to "sell" parents all girls' or all boys' education. He certainly thinks sports is just as important at a girls' school and has made sure that the extracurricular offering goes beyond the typical "netball, tennis, rounders" list you may find at many girls' schools. Cricket, martial arts and field hockey are just some of the sports on offer here. "We're a girls' school, but we are not a girly school", he assured me. The school is relatively large with 60 girls per year group, 420 pupils in total, which makes it easier for the school to offer a wide range of sports and extracurriculars and to give all girls the opportunity to join various teams.
Of course, I also had to ask about how to get a place at Pembridge Hall School, and unfortunately it is true that to get a place in Reception, you have to sign up as soon as possible after birth. But it is certainly possible to apply for occasional places higher up in the school, as they do arise once in a while and get filled from the waiting list. Although entry at 4+ is non-selective, for places in higher year groups, assessments are carried out and candidates need to have a good standard of English and Maths to be able to keep up with the pace of the curriculum.
Exit results are excellent at Pembridge Hall, especially given its non-selective nature for the Reception intake, and I was curious how 11+ preparation and senior school selection are carried out here. Pupils start their 11+ preparation officially in Year 5, and over time sit more and more assessments in English and Maths that get increasingly similar to the actual 11+ exam. Through this constant assessment, parents and pupils get realistic expectations of their chances at the senior schools of their choice. This year, for example, Pembridge Hall girls won 5 offers from St Paul's, 11 from Latymer Upper, 14 from Godolphin and Latymer and 18 from South Hampstead High School. But the school makes sure to offer the girls a wide ranging curriculum to take their minds off English and Maths tests. The only Year 6 girls I saw during my tour were wearing sports kits and just racing out of their classroom for sports practice.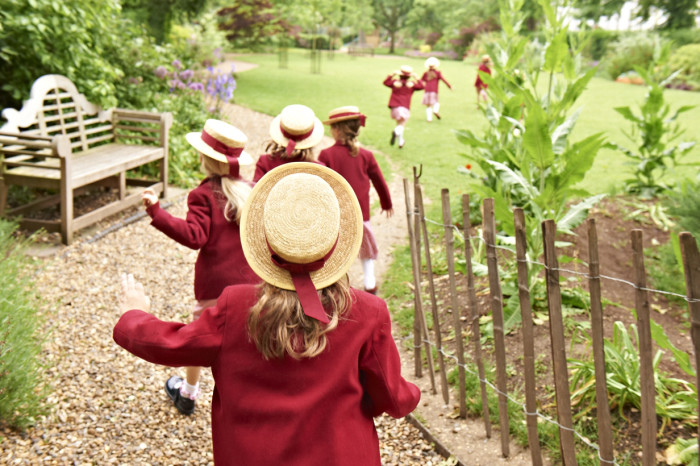 In the Lower School, all three Reception classes are on the ground floor, and whichever classroom I entered, we were greeted by an international mix of happy, excited girls. The atmosphere in the lower school is welcoming and friendly, and the mix of children is very international, reflecting the Notting Hill neighbourhood. As many as 60% of pupils are from an international background, according to Mr Keighley-Elstub, but of course many of these are born and bred Londoners just like their British peers. The Lower School has a lovely small outdoor playground, but girls do also use beautiful Pembridge Square for break times.
In the Upper School, I could visit the new science lab, where we met the specialist Science teacher and co-ordinator Miss Hassan. Unfortunately, no lesson was in progress when we came, but I could see the lab is well equipped and the children do a wide exposure of scientific topics. In fact, Miss Hassan used to teach science at secondary schools before joining Pembridge Hall, and enjoys stretching the girls with hands-on experiments.
But the loveliest classroom of all, in my view, is the school's drama studio, which reminded me of one of the costume stores where I used to buy carnival costumes in my childhood. It must be any girl's dream with its choice of costumes, props, masks and puppets. Drama is an important part of the curriculum at Pembridge Hall, with girls taking drama lessons from Reception, and each year group involved in performances.
Apart from self-confidence and communication skills that pupils can build during drama lessons, another characteristic Mr Keighley-Elstub wants to instil in the girls is to be hard-working and humble. Many children here are lucky to attend such a lovely school, but of course, they also need to be ready for life in the real world one day. But he stressed the school was not just right for one type of girl, instead he wants his school to be a happy place for all children, no matter if they are shy, extravert, sporty or bookish (or none of those!).
On the way out, I met Monika Jackova, registrar at Pembridge Hall. She is very friendly and approachable, despite the hundreds of enquiries and phone calls she must be getting each week. Then I walked out of this lovely villa, into the sunshine, and I could hear the cheers and chatter of girls playing on Pembridge Square. As I walked past the square, a group of Wetherby boys ran down the stairs of their villa, across the street and onto the square to enjoy their break time in the sun.