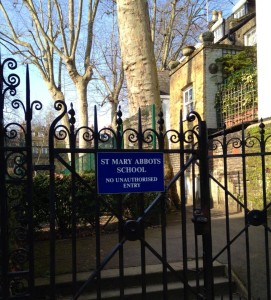 Are you applying for primary school places to start Reception in September 2015? At many oversubscribed London state primary schools, catchment areas have been shrinking in recent years, although there is some relief in select councils. In Richmond, the newly opened Thomson House free school and a bulge class at Barnes Primary helped ease the pressure last year – it's probably the only borough left in London where an outstanding state primary can have a catchment area of 1 mile! But even at many of the top Muswell Hill state primary schools, catchment areas seem to have remained constant or even increased for a change, which is great news. Other parts of London were not so lucky. Certainly in Kensington and Fulham getting into an outstanding state primary school is a big challenge! The popular strategy of renting next to your desired school becomes a challenge with catchment areas of 0.05 miles, as in the case of Fox Primary School!
If you have subscribed to my newsletter, you will have access to the most recent version of the free London Schools Guide (see top right for sign-up form), which contains links to all Starting Primary School Admissions Booklets of the London boroughs which list catchment areas and admissions criteria for all state primary schools. If you are still undecided on where in London you want to live when you apply or you are considering where to move in London, here is a little overview of admissions criteria for the top London state primary schools that will give you a good idea. The common theme is probably that you need to be an avid church goer if you want to get into one of the sought after voluntary aided schools, or you need to live within 200-300 meters of your chosen community primary. This rule seems to apply in most areas. But let's get started with the overview of catchment areas:
Camden
Outstanding state primary schools in Camden are massively oversubscribed. The new free school Abacus Primary in Belsize Park will provide some relief, but it may not be enough. Like Barnet, Camden is yet to publish the 2015 brochure, so we will take the stats from the 2014 for now and update the post as soon as the new information is published. The popular Christopher Hatton Primary near Holborn only took one child living 0.03 miles from the school under distance criteria, all other places were filled by siblings and one child with special educational needs. Eleanor Palmer Primary was not much better with a catchment area of 0.1 miles! Fleet Primary at 0.35 miles and Torriano Infants at 0.30 miles are slightly better, but overall catchment areas in Camden are very small across the board, so be careful!
Kensington and Chelsea
Back in Central London, there is no respite for people hoping to get into an outstanding state primary school. Bousfield Primary School could only extend offers to families living within 0.1644 of a mile from the school! It was even tougher to get into Fox Primary, with the furthest pupil admitted living 0.06 miles from the school within the priority area (if you think it is impossible even to live so close to a school, I even know a lucky family who lives within this distance of Fox Primary! According to the statistics, 20 places were allocated within this distance!). Thomas Jones Primary near Ladbroke Grove is just mildly better with the furthest distance at 0.145 of a mile from the school. At the highly successful Oratory RC Primary School in Chelsea, only Baptised Catholic children from practising
Catholic families whose families attended Mass regularly and who are resident within the Oratory Parish were able to gain a place. What a shame, I love the Oratory RC uniform – the first time I saw pupils from the school on the streets of South Kensington I thought "I wonder which fancy prep school that is!". Only the Garden House School comes close in terms of style!
Hammersmith and Fulham
The catchment area of the popular All Saints Church of England primary school had already been cut in half in 2013, and it got even worse in 2014 when only one open place was offered to a family at a distance of 0.09 miles from the school. The popular bilingual French Lycee programme at L'ecole Marie d'Orliac was heavily oversubscribed again with a catchment area of only 0.16 miles (compared to 0.2504 miles in 2013). The Fulham Bilingual programme is switching to a lottery admissions system (within a defined, relatively large area of Fulham) for 2015 to avoid families moving next to the school to secure a place. The newly opened West London Free School Primary in Hammersmith had a catchment area of 0.49 miles in its second year.
Islington
Further East, catchment areas are no wider, with the most popular schools' catchment areas in Islington at:
Canonbury 0.418 miles (not so bad!)
Grafton 0.231 miles
Thornhill 0.373 miles
William Tyndale 0.243 miles
Yerbury Primary School 0.224 miles
Keep in mind please that these distances just show you retrospectively what the cut-off distance for admission was in 2014, they are a good indicator but distances do vary from year to year depending on the number of siblings, birth rates, and changes to class sizes or competing schools. There is no guarantee you will gain admission if you live closer than the distances shown!
Westminster
In Westminster Council, the King Solomon Academy (one of the few state primary school in London I've found so far using the Singapore Maths curriculum – where are the others??) was able to offer places to parents living in a radius of up to 326 metres from the school. Hampden Gurney CE Primary School, the top performing school by test results after Grinling Gibbons, only accepted applicants who are avid and practicing members of the Church of England.
Lewisham
Grinling Gibbons is London's top performing state primary school if you look at SATS results. Its catchment area in 2014 was a tiny 186 metres.
Bromley
Burnt Ash Primary in Bromley with a last offer distance of 0.62 miles looks like a piece of cake in comparison, as does Clare House with 0.46 miles. Offer distance at the popular Pickhurst Infant Academy shrank to 0.47 miles, while a tough one to get into in 2014 was the Valley Primary with an offer distance of 0.17 miles!
Haringey
Further up North in Muswell Hill and Crouch End, an area known for many outstanding state primary schools, catchment areas remained fairly constant, some shrank and some got wider. Here are last distances offered for Muswell Hill's most popular state primary schools:
Coleridge 0.3211 (0.3251 in 2013)
Coldfall 0.38  (0.5248 in 2013)
Muswell Hill 0.2374 (0.3171 in 2013)
Rhodes Avenue 0.3557 (0.3456 in 2013)
Tetherdown 0.3565 (0.2508 in 2013)
Barnet
The council of Barnet is still updating final information for the 2015 brochure. Here are the stats for the previous year: In the popular Hampstead Garden Suburb, Brookland Infant School with 90 Reception places had a catchment area of 0.387 and the equally outstanding Garden Suburb Infant School a catchment area of 0.82, so at least you know it is not absolutely impossible to get a place at a top state school near Golders Green. Martin Primary, another school close to East Finchley tube station had a catchment area of 0.62 miles. The high performing Courtland Primary near Mill Hill had a tiny catchment of 0.19 only.
Harrow
Newton Farm Junior School made negative headlines with a scandal about potential test result manipulation, but it still had a tiny catchment area of  0.263 miles only. High performing Whitchurch Junior School looks better with a cut-off distance of 0.608 miles, as does Cannon Lane Primary School at 0.773 miles.
Richmond
Not only does Richmond Borough have many outstanding primary schools with the widest catchment areas, they also publish extremely helpful maps of successful and unsuccessful applications for each oversubscribed school called primary school allocation maps. The following table gives the 'cut-off' distance from home to school of the last child offered a place for the most popular non-faith Richmond Borough community primary schools. The distance in brackets is the cut-off for the previous year's admissions.
School                  Distance in metres
Barnes Primary  288 (400)
East Sheen Primary  713 (411) – this school had an additional bulge class
Marshgate Primary 661 (989)
Sheen Mount Primary  885 (484)
Thomson House 893 (644)
The Vineyard Primary 755 (319)
Wandsworth
Belleville Primary School – applicants living up to a distance of 238 (274) metres.
Brandlehow Primary School – this is another hidden gem of an outstanding, high performing school with a cut-off distance of 520 metres.
Honeywell Infant School – applicants living up to a distance of 182 (232) metres.
Wix School – Bilingual class of the Wix Primary School offered in cooperation with the French Lycee – 14 siblings admitted, no others! This school certainly wins the prize for London's smallest catchment area of ZERO metres!