2 Arkwright Road, London NW3 6AE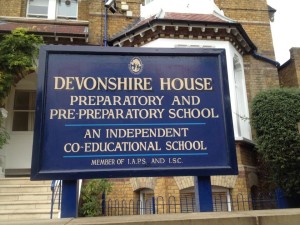 Profile: Devonshire House Preparatory School is a co-educational preparatory school catering for boys aged two and a half to thirteen and girls aged two and a half to eleven. It houses the Oak Tree nursery for children aged 2.5 to 4, from where children can automatically join the Reception class at Devonshire House. It is a large school with four to five classes of 20 children each in the junior school. The facilities are excellent and very modern compared to many other London prep schools, with plenty of outside space.
It is one of the top preparatory schools in Hampstead with very positive parent reviews (except if yore looking on mumsnet – there seem to be a few ardent sceptics there!) and excellent inspection reports that praise teaching quality, academic quality, personal development and pastoral care at the school. The school has a wide mix of international expat families, and there are breakfast clubs and after-school clubs for working parents, which is a very attractive feature of the school.
Here is an excerpt from its latest inspection report:
The pupils' overall achievement is excellent and fulfils the aims of the school in providing an academic education that allows each pupil to achieve his or her full potential. Pupils achieve high academic standards within a wide and creative curriculum, and a happy and stimulating environment in which they have opportunities to develop their ideas and initiative. Pupils make rapid progress and achieve high standards at each stage

The quality of teaching is excellent and makes an outstanding contribution to pupils' achievement

The pupils' social development is excellent. The school succeeds in providing an environment in which pupils feel valued, appreciate the talents of others and learn to work constructively within a community
(all from Inspection Report March 2011)
The school offers academic scholarships for boys and girls at the 7+ and 8+ stage for entry into year 2 and year 3.
Admissions: The first point of entry is the Oak Tree Nursery. Children need to be nappy free when they enter at 2.5 years. There are part-time and full-time places at the OTN. Children from the Oak Tree Nursery are automatically accepted into Devonshire House Preparatory School. Entry into Reception is by 4+ assessment,
generally made in January/February before proposed entry in September.  Children are seen, when possible, in a group. All children are asked to complete the same tasks and detailed notes are taken both of their approach and the results. Every attempt is made to assess potential rather than current attainment.

Exit Results: Girls leave the school at the 11+ stage, while boys continue until 13+ for Common Entrance. Girls and boys go on to leading North London Day schools as well as popular boarding schools. In 2014, 6 girls were offered places at South Hampstead High School, 3 at NLCS, 7 at Highgate, and 4 at City of London. Other common 11+ destinations for girls are Francis Holland, Channing and Queen's College. At 13+ for boys, there was 1 offer from Haberdashers, 2 from Harrow, 8 from UCS and 2 from St Paul's. Other popular destinations are Mill Hill, Rugby, Highgate and Westminster School.
You can find the full history of results from 2006 – 2016 here.