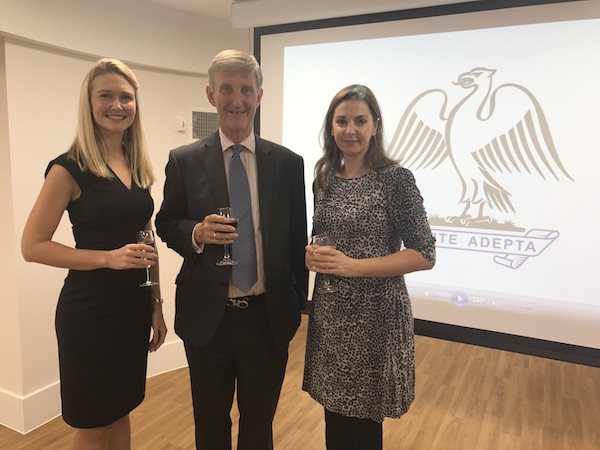 St Anthony's School for Girls, the new independent Catholic school located at Ivy House, North End Road, NW11, welcomed founding parents, governors, and other guests on the evening of 12 October to celebrate its official opening.
The school is situated on the North End Road (A502) between Golders Green and Hampstead Heath, and it is the sister school to the highly successful St. Anthony's School for Boys in Hampstead.
Laura Martin, head teacher of St Anthony's School for Girls, joined by Graham Able, Executive Deputy Chairman of Alpha Plus, the educational group which the school is part of, shared the vision for the school and its aspirations for its pupils.
In her speech to guests, Miss Martin said; "St Anthony's School for Boys was founded by Richard Patton in the Victorian period, and moved to its current Hampstead location following the Second World War. Here we are in 2016 on the next leg of the St Anthony's journey, opening the Girls school. I feel extremely privileged to be part of the St Anthony's name and to have the opportunity to build on the ethos and values which have been integral to the success of the boys' school.
"I would like to say to our founding parents: your girls are a credit to you and it's our privilege and our pleasure to teach every one of them. Our girls are our purpose, and they really are exceptional."
Ebru Nart, a founding parent with a daughter in year 3 commented at the opening event: "Irem my 7 year old daughter moved to St Anthony's School for Girls from a state school. She came from a very good school, however it is easy to get lost in mainstream education due to the large class sizes. Irem is a bright girl, and I know she will get the attention she needs here to flourish to achieve her full potential. In only 5 weeks since opening the teachers know the girls really well already which is brilliant, and the girls have bonded very well. Irem is really happy here."
Following the official presentations by Laura and Graham, guests were treated to a tour of Ivy House, a magnificent three story building with a beautiful façade overlooking Golders Hill Park and a large terrace to the rear. It is the former home of the London Jewish Cultural Centre and of the prima ballerina, Anna Pavlova, and was also at one time occupied by the painter JMW Turner.
The building has an impressive area of 12,000 square feet and has undertaken a programme of extensive refurbishment to create the very best teaching space, encompassing 14 classrooms, specialist science, music and art rooms, as well as a multi-purpose hall for dining, drama and other purposes.
St. Anthony's School for Girls teaches pupils in a Catholic environment, and is inclusive and open to other faiths. The new school will educate girls from age 4 – 11. Classes in Reception and Year 3 opened in September 2016 and growth will be organic after that, with Year 1 and Year 4 opening in September 2017 and so on. The maximum roll will be 280.
Alpha Plus Group owns and operates eighteen first-class independent schools, nurseries and sixth form colleges. The Group stands for excellence in education provision, known as the Gold Standard. By providing first-class learning, children and young people are able to achieve their full potential in a challenging yet secure and caring environment. Teaching throughout the Group combines the best of traditional and modern methods and provides access to the latest classroom technology.
St Anthony's School for Girls is holding an open day 10.30am – 12.30pm, Saturday 12 November. Parents wishing to attend should contact Registrar, Georgia Hutton on 0208 992 5189, or email admin@falconsgirls.co.uk