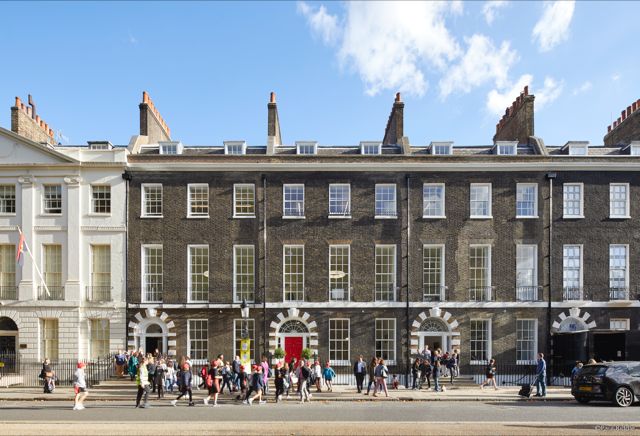 Three years after its inception, Ecole Jeannine Manuel London welcomes 365 pupils representing 40 nationalities from nursery
through Year 10. Next fall, the school will open
its Upper School on Russell Square, steps from its Primary and Middle schools. In Year 11, the Upper School will enrol the school's current Year 10 pupils as well as new bilingual or Anglophone pupils.
Pupils entering Sixth Form will choose either the International Option of the French
baccalaureate (British section OIB) or the International Baccalaureate Diploma Programme (IB). Both tracks have coexisted successfully at Ecole Jeannine Manuel in Paris for over thirty years. Featuring a challenging bicultural curriculum in History-Geography and an enriched English Literature syllabus, the OIB is the most demanding French lycée
curriculum, requiring a native command of both French and English. Equally challenging, the IB programme is made up of a common core and a choice of six subjects distributed among STEM disciplines and the humanities. It is recognised for its academic rigour and emphasis on personal development. For Pauline Prévot, Head of the London school, "Both programmes are highly valued by the world's most prestigious universities. Pupils will choose the baccalaureate track that best fits their talents and higher education aspirations."
Higher Education Advisory
In Paris, Ecole Jeannine Manuel enjoys a long, successful tradition of university counselling. As highlighted by chairman Bernard Manuel, "École Jeannine Manuel sends more graduates to Oxbridge and to Russell Group universities in the UK, and to Ivy League colleges in the US, than any other school in France. We will bring this expertise to London so that each pupil can benefit from it." Accordingly, a team including a French specialist, a UK university adviser and an American college counsellor will help each pupil decipher the higher education landscape, define goals and plan the application process.
An Educational Project for 3-18 Year Olds
"We are very proud to bring Jeannine Manuel's vision to London and to see the school grow with its pupils. The opening of the Upper School will complete our 3-18 year olds' education cycle and further our mission of international understanding," emphasises Pauline Prévot. The new Upper School will benefit from several partnerships established by the Primary and Middle schools with London cultural institutions such as Shakespeare's Globe Theatre or University College London (UCL) for sports facilities. The school will also extend and expand its bursary programme for current and new Upper School pupils.
About Ecole Jeannine Manuel London
Founded in 2015, Ecole Jeannine Manuel London is a co-educational French, bilingual, international school for 3-18 year olds. Ecole
Jeannine Manuel in London is the sister school of its Paris namesake, ranked first lycée in France for the past five years. The London
school is registered as a British charity and shares the Paris school's mission: to promote international understanding through the bilingual
education of a multicultural community of pupils and to foster pedagogical innovation. Accredited by the French Ministry of Education
and recognised as a Cambridge International School, the school is also an IB World School candidate for the IB Diploma Programme.